Syracuse Auto Expo | February 10-13th 2022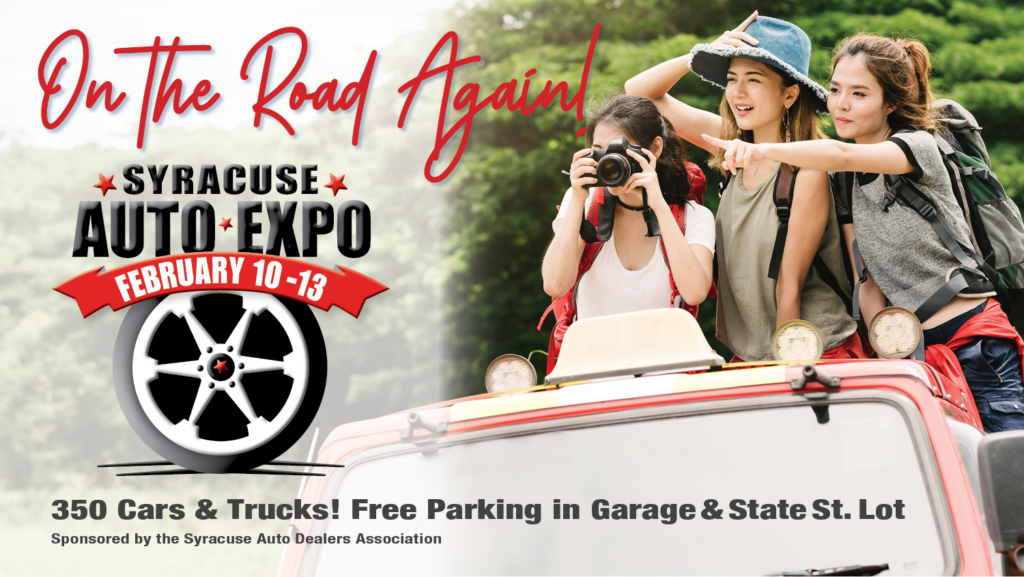 The Syracuse Auto Expo returns to the Oncenter February 10th-13th. The 112th Auto Expo sponsored by SADA features hundreds of vehicles spread out through two buildings and four BIG floors totaling 135,000 square feet, and you can experience it all in the comfort of the climate-controlled Oncenter. See the latest in automotive technology, efficiency, safety, comfort, and style for work, play or leisure. Kick off the big Superbowl and the leadup to Valentine's Day weekend by enjoying the latest cars, trucks, and luxury vehicles in the two massive buildings of the Oncenter.
Dates:
Thursday through Sunday, February 10th – February 13th
Hours:
Thursday & Friday: 4PM–9PM | Saturday: Noon–9PM | Sunday: Noon–5PM
Admission:
Adults: $10 | Seniors: $7 | Children (6-12 yrs.): $3 | Age 5 and under: Free
Parking:
Parking is free at the Oncenter Garage and the State Street Parking Lot.
Specials:
Veterans, first responders and military personnel are Free on Thursday ONLY.
Covid Protocols:
The Auto Expo and Charity Preview will be following state protocols for gatherings. The protocols include mask-wearing, proof or vaccination or a negative test. To find out more about the show protocols check out our covid protocols page for the Auto Expo and The Charity Preview.
Charity Preview:
Charity Preview tickets are $150 per person. Sponsorship rates are:
Bronze – 6 tickets – $900
Silver – 10 tickets – $1500
Gold – 20 tickets- $3000
If you'd like to purchase a ticket you can print a response form here and mail it to the Syracuse Auto Expo.
For vendors who are interested in being at the show, 10' x 10' booths are available. Email SADA for more information or call 315-474-1041.
Like us on Facebook at "syracuseautoexpo."
Find us on Instagram at "syracuseautoshow."
#syrautoshow
Looking to sponsor the Syracuse Charity Preview? Get details here.
Oncenter:  800 South State Street, Syracuse, New York 13202
Oncenter Box Office – 315-435-2121